Platform Tennis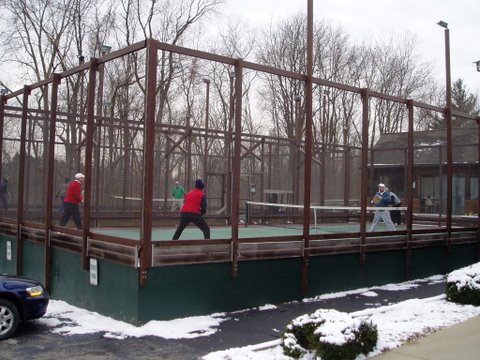 Platform Tennis (often called "paddle", despite other sports with similar names) is a racquet sport derived from tennis, developed in 1928 in Scarsdale, New York by James Cogswell and Fessenden Blanchard. Platform Tennis is an American racquet sport enjoyed by thousands of people of all ages. It is the only racquet sport that players can enjoy outdoors in cold weather. This unique appeal attracts people who desire fresh air, competition, and social engagement - all on a chilly winter's day or night.
The Court: The game is played on an aluminum deck about 1/3 the size of a tennis court and is surrounded by a 12' high superstructure with taut, 16-gauge "chicken wire" fencing which allows play off the walls, as in racquetball and squash.
The Equipment: Platform tennis paddles are made of a composite material with aerodynamic holes drilled in the head. Paddles are approximately 18" long. The spongy, rubber ball measures 2.5" in diameter. A flocking material on its exterior keeps the ball from skidding.
The sport has gained some popularity in the United States. The American Platform Tennis Association, founded in 1934, regulates the game.