Beach Tennis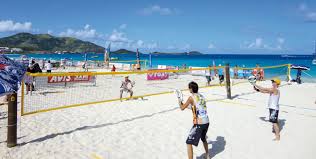 Beach Tennis is sport which has elements from tennis and volleyball, and this is played on the beach. There are two forms of beach tennis, Beach Tennis USA and Beach Tennis with paddle racket. Beach tennis merges the world of beach volleyball and tennis. It is related to beach volleyball but played with a tennis ball and paddle racket. The court is a standard beach volleyball court that is 30 feet wide and 60 feet long. There is a center line that splits the court lengthwise. At the center of the court is a 5-foot-10-inch-high (1.78 m) net. A standard tennis racquet or a paddle and a slightly depressurized tennis ball (6 oz instead of 12 oz) are used.
Beach Tennis USA: Beach tennis was formalized in 2005 in New York City by Marc Altheim. He discovered beach tennis on a trip to Aruba in 2003. The sport had been played there since 2000. As of 2007, beach tennis had made progress toward acceptance as a mainstream sport with an official standards organization known as Beach Tennis USA (BT USA). For beach tennis USA events, the format depends on the number of entrants and number of courts available, and also the time. Usually, the preliminary rounds are pool-play. Pool play means, there is a pool of four, one will play the other three teams in the pool. The top teams will advance to the next pool.
Beach tennis with paddle racket: In other countries beach tennis is called beach paddle ball or nation-specific names like matkot in Israel, racchettoni in Italy, and frescobol in Brazil.
ITF Beach Tennis Tour: The ITF Beach Tennis Tour (ITF BTT) is a beach tennis contest organized by the International Tennis Federation. It began in 2008, and has already seen an increase of nearly six times the number of tournaments on the ITF BTT calendar.
The current general regulations are established by I.F.B.T. to provide the rules for the competitions. The International Federation Beach Tennis is divided into three fields:
• Beach Tennis: played on the sand
• Gym Racket: played indoor on hard or grass surface
• Racket Volley: played with string racket on the sand
All the official competitions are controlled by an I.F.B.T. Manager; all participating Officials and Referees must have the specific license and will be organized in an official Registration. The Federation also organizes stages and courses.
Contests are divided as follows:
• Regional Championship
• National Championship
• Continental Championship
• International Championship
All Tournaments and competitions must be authorized by the Federation. A calendar of the events for each season is made with respective charts. In order to organize a tournament, each nation must ask the Board of Directors at least 30 days in advance.
Competitions are divided according to player's age:
• Under 14
• Juniors under 18
• Senior 19-39
• over 40
• Open
Competitions are also divided into two categories: Professional & Advanced.