Real Tennis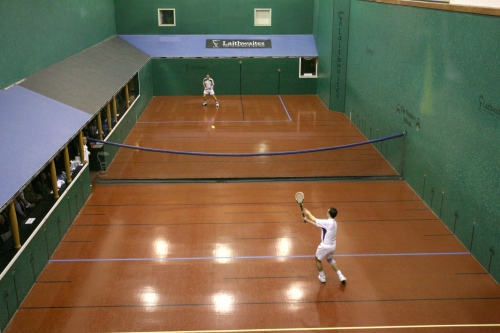 Real tennis – one of several games sometimes called "the sport of kings" – is the original racquet sport from which the modern game of tennis (originally called "lawn tennis") is derived. It is also known as court tennis in the United States, formerly royal tennis in England and Australia, and courte-paume in France. Real tennis is still played on about 43 surviving courts in the United Kingdom, Australia, the United States and France. Despite a documented history of courts existing in the German states from the 17th century, the sport evidently died out there during or after the World War IIreconstruction. The sport is supported and governed by various organizations around the world. There are a total of 43 real tennis courts remaining, and over half of these are in Britain.
The rules and scoring are similar to those of lawn tennis, which derives from real tennis, but are more complex. Although in both sports game scoring is by fifteens (with the exception of 40, which was shortened from forty-five), in real tennis, six games wins a set, without the need for a two-game buffer as in lawn tennis although some tournaments play up to nine games per set. A match is typically best of three sets, except for the major open tournaments, in which matches are best of five sets for men and the best of three sets for women.
It is played indoors, the balls are hand made and solid like a cricket ball, the rackets are wooden with a very small sweet spot; you have to be athletic, dextrous, cerebral and super fit. Play is continuous, there is no sitting down to get your breath back on changing ends, it could almost be considered an extreme sport.
The court is divided by the net into two sides. The side from which the game is normally viewed by spectators through the dedans is called the service side. The other is the hazard side. The serve is always delivered from the service side; and the ball is struck to bounce at least once on the hazard side of the penthouse roof and then on the floor within the service court.
Scoring in Real Tennis is the same as that adoped by lawn tennis except in Real Tennis the score of the winner of the point is always called first. The first player to six games wins the set.