Crossbow Archery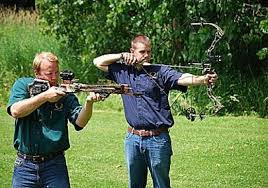 Crossbow archery is a sport of the archery discipline in which a crossbow is used instead of a regular bow. The sport is divided into two major types, match crossbow and field crossbow, depending on the style of shooting.
The International Crossbow-shooting Union (Internationale Armbrustschutzen Union – IAU) was founded in Landshut, Germany on June 24, 1956 as the world governing body for crossbow target shooting. The IAU supervises World, Continental and International crossbow shooting championships in 3 disciplines; 30m Match-crossbow, 10m Match-crossbow and Field-crossbow archery. IAU World Championships take place every two years with Continental Championships on intervening years. Other International and IAU-Cup events take place annually.
Field-crossbow archery was first adopted by the IAU during their General Assembly at Frütigen, Switzerland in 1977. Since then the sport has become the most popular, in terms of worldwide activity, of the IAU's three target crossbow disciplines. A feature of this sport is that many crossbow archers make their own equipment. By following the detailed guidelines issued by the IAU's Technical Committee it is possible to construct a field crossbow from locally available archery materials and target shooting accessories.
Crossbow archers shoot from the standing position and they must draw the bow string by hand without mechanical assistance. At outdoor competitions Bolts (arrows) are shot in "ends" (series) of three at multi-coloured 10-zone archery target faces. A time limit of three minutes is allowed per three shots. After a sound signal from the official in charge of shooting, all competitors walk forward together to score and collect their bolts from the targets. This sequence is repeated until the completion of the competition 'round'.
In the 30m format, the target is placed 30 meters away and competitors will have to take shots both from a standing position and a kneeling position. The 10m format is a highly technical event which takes places on indoor ranges. Competitors shoot at targets that are 10m away in a standing position. A black and white target card is used for both formats, same as the targets used for Olympic air-rifle shooting. Competitors take one shot per card and the same bolt is shot repeatedly. In both formats, each player gets to take 60 shots.
Equipment: Field-crossbows are designed to specifications laid-down by the International Crossbow-shooting Union (IAU). These rules limit the power, weight and physical dimensions of equipment for use in archery-style competition. Other restrictions include the use of mechanical triggers and open sights only. The bowstring has to be drawn by hand without the use of mechanical assistance. The majority of the crossbows used in this sport are custom made in small quantities, often by the archers themselves.