3D Archery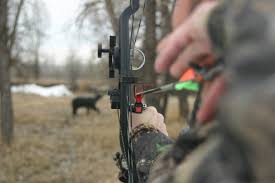 3D archery is a subset of field archery focusing on shooting at life-size models of game and is popular with hunters. It is most common to see unmarked distances in 3D archery, as the goal is to accurately recreate a hunting environment for competition. Though the goal is hunting practice, hunting broadheads are not used, as they would tear up the foam targets too much. Normal target or field tips, of the same weight as the intended broadhead, are used instead.
In the past 10 years 3D archery has taken new light with a competitive edge. There is a whole new group of competitions that are no longer considered hunting practice. Competitions are held in many U.S. states with the totals from each state being added together to crown a single winner within each division. Some competitors will travel thousands of miles a year to compete to try and claim the world title in 3D archery. This competitive style has been growing in many other countries and should continue with strong support for many years to come.
For competitive and recreational 3D archery, two main organizations promote the sport: the Archery Shooters Association (ASA) and the International Bowhunters Organization (IBO). Both organizations host tens of thousands of amateur and professional archers from across the United States and the rest of the world in competitions.
IBO was created in 1984 by a group of bowhunters hoping to ensure the sport, along with the ideals of wildlife conservation, would survive, expand, and flourish for future generations. To that end, the IBO began a series of worldwide tournaments in 1989, which has grown so much that the IBO World Championship is now the largest and most prestigious event in 3D archery. ASA was founded in 1993 for the same reason, and has been growing steadily. The two organizations have different scoring standards for the targets, and ASA has been leading the competitive world in setting safety and fair competition standards for the sport. Furthermore, in 2007, ASA began incorporating Known Distance 3D archery, which provides competitors with another option and gives a more accessible starting point for new competitors.
For hunters, 3D archery is a terrific way to maintain their skill and edge year-round. It's also an exciting form of competition. Thousands of archers and spectators drawn to the largest tournaments. For many archers, 3D archery is another avenue to becoming a sponsored professional, and tournaments often provide large purses including cash and scholarship payouts. If you want to get involved, you should contact your local ASA or IBO club and find out when their next recreational 3D archery shoot is happening.
The Field Archery Association of India is a non-profit Organaisation dedicated to the sport of archery. The FAAI is dedicated to the conservation and preservation of game and its natural habitat. The organiation is very active in cooperating with federal and state agencies and sportsmen and conservation organizations. It is resolved to foster, perpetuate and preserve "the use of the bow in accordance with its ancient and honorable traditions." They task themselves with organising Field Archery events on behalf of archery clubs in INDIA. This includes national leagues and championships for both Field and Bow Hunter 3D shooting styles and Indoor Archery.