Para Archery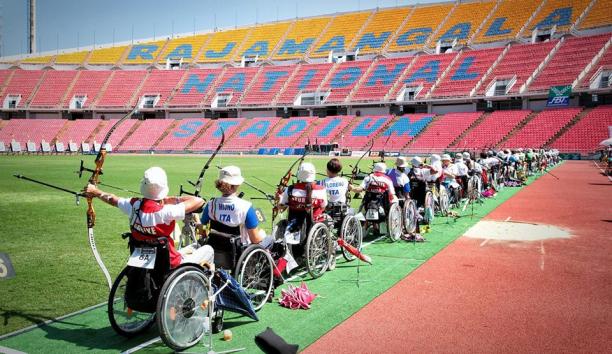 Para Archery is open to athletes with a physical impairment, who may shoot with assistive devices allowed under classification rules, if required. Para archery competition, which includes specific competition categories for athletes with certain classifications, is an integral part of the Paralympic Games. The first archery competition for those with physical impairments took place at Stoke Mandeville Hospital in 1948 for recovering veterans. As participants from other nationalities became involved over the years, this event became the precursor to the Paralympic Games. When the first Paralympiad was held at Rome 1960, para archery was part of the programme – and it has remained there ever since.
Governance in the sport is through the International Archery Federation (also known as the World Archery Federation or Fédération International de Tir à l'Arc – FITA) and is overseen by the International Paralympic Committee (IPC). The IPC transferred its governance to FITA in 2009 as part of the IPC's program to move governance to sport-specific bodies.
Any archer can apply to be classified at the international level through their national governing body. A classification does not necessarily make an athlete eligible to compete in a para archery division, but may make them eligible to compete with an assistive device. Para-Archery is open to a number of athletes who have a physical impairment; there are currently three different classifications. It is an individual and a team sport, which involves both standing and wheelchair events, open to both men and women.
Athlete's shoot from a distance of 70m at targets marked with 10 scoring zones. In both the individual and team events the first round ranks the athletes, before the elimination process begins. Athletes/teams go head to head, and in the event of a tie, a shootout decides the winner.
Para archery competition classifications currently consist of
Open: Athletes may have impairment in the legs and use a wheelchair or have a balance impairment and shoot standing or resting on a stool. Open category athletes may shoot in recurve or compound competitions, under standard rules, and the category is featured at the Paralympic Games.
W1: Athletes may have impairment in the legs and make use of a wheelchair. W1 athletes may shoot either a recurve or compound bow modified from standard rules, do not have separate competitions for the two disciplines, and the category is featured at the Paralympic Games.
Visually impaired V1, V2/3: Athletes may have impairment in their vision. V1 athletes must wear blindfolds or black-out glasses while competing. V1, V2/3 athletes use tactile sights and are permitted an assistant sitting or standing one metre behind the shooting line to relay information about the position of the arrows in the target, safety and help with scoring. The category is currently not featured at the Paralympic Games.
Process: For a para-archery athlete to compete at the Paralympic Games, international classification by an International Classification Panel is required. The International Classification Panel will allocate a class to the athlete and rule which (if any) assistive equipment the athlete may use. Their ruling overrides all prior classifications including those of a national basis. Athletes must be classified according to their disability and level of impairment. The classification process normally involves a physical assessment to authenticate the disability and evaluate the degree of limitation. The athlete will be observed in competition action. Results will place the athlete in one of the three classes this evaluation cannot be used for sports outside of Archery.
Paralypic Committee of India is is a non-partisan, non-profit organisation dedicated for the development and upliftment of Physically Challenged Sports & Wheelchair Athletes in India. For more information visit: Paralympic committee of India