Blind Cricket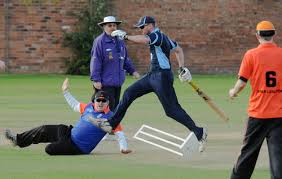 Blind cricket is a modified version of cricket which is designed to be played by blind and partially sighted athletes. The sport was invented in Australia in 1922. It has been governed by the World Blind Cricket Council (WBCC) since 1996. The rules of blind cricket are based on the standard laws of cricket with some essential modifications. There are a total number of 11 players in each team: at least four players who are totally blind (classified as B1) and three partially blind players (B2), and up to four partially sighted players (B3). In terms of playing equipment, the major adaptation is the ball, which is significantly larger than a standard cricket ball and filled with ball bearings to provide audible cues. The size allows partially sighted players to see the ball and the contents allow blind players to hear it. The wicket (stumps) is also larger, made of metal tubes painted in fluorescent colours, to allow partially sighted players to see and blind players to touch it in order to correctly orient themselves when batting or bowling.
Player Identification: B1 players wear a White Wrist Band or one stripe on the upper arm may also be used. B2 players wear a Red Wrist Band or two stripes on the upper arm may also be used. B3 players wear a Blue Wrist Band or three stripes on the upper arm may also be used.
The WBCC was established in 1996 during an international cricket meeting held in New Delhi, India in September 1996. The WBCC was set up with the objective of promoting and administering the game of blind cricket globally. Today the WBCC has 10 full members namely Australia, Bangladesh, England, India, New Zealand, South Africa, Sri Lanka, Pakistan, West Indies,and Nepal.
CABI - Cricket Association for the Blind in India is the Apex Body Governing, Organizing and Developing Cricket for the Blind in India and has 24 State Associations and over 25,000 Players affiliated at various domestic level tournaments in India. CABI is affiliated to World Blind Cricket Ltd (WBC) and Indian Paralympic Committee and is the Cricketing Arm and Initiative of Samarthanam Trust for the Disabled. CABI organizes tournaments at District, State, Zonal and National levels. It helps the local bodies to organize local level tournaments to spot talent, develop teams of coaches, physiotherapists, trainers, umpires and other team support personnel.
Team Selection Process:
Applications are received by State affiliated Cricket Associations from players to participate in the subsequent matches. All applications are screened by a Selection Committee constituting 4 Zonal Secretaries, 1 President and 1 External Authority, and shortlist a team
Respective Associations will organize State Tournaments for the shortlisted team for expert evaluation and finalize the State Level Team. CABI has 24 states representation from all the 4 Zones. The panel selection committee chairman along with 4 selection committee members will be monitoring the zonal matches (East, West, North and South).
Winners and Runners up will be qualified for the nationals. Eight teams will be participating in nationals
C.A.B.I identifies a core group of 30 potential players from the National Tournaments organized. A final team of 17 members will be selected based on the performance during a selection trial camp organized.
The Final Team of selected players to represent India in World Cup and other International matches is announced in a Press Conference/Launch Event