Cross-Country Running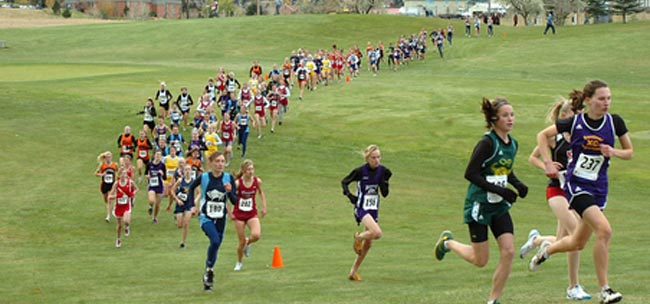 Cross country running is a sport in which teams and individuals run a race on open-air courses over natural terrain such as dirt or grass. Sometimes the runners are referred to as harriers (dogs). The course involves surfaces of grass and earth, woodlands, hills, flat ground, and gravel road. The runners are judged on individual times and teams by a points-scoring method. Both men and women of all ages compete in cross country, which usually takes place during autumn and winter, and can include weather conditions of rain, sleet, snow or hail, and a wide range of temperatures.
Cross country running is one of the disciplines under the umbrella sport of athletics, and is a natural terrain version of long-distance track and road running. Although open-air running competitions are pre-historic, the rules and traditions of cross country racing emerged in Britain. The English championship became the first national competition in 1876 and the International Cross Country Championships was held for the first time in 1903. Since 1973 the foremost elite competition has been the IAAF World Cross Country Championships.
Olympic Games: Cross country was contested as a team and individual event at the 1912, 1920 and 1924 Summer Olympics. During the 1924 race in the Paris heat wave, only 15 of the 38 competitors reached the finish and Olympic officials decided to ban cross country running from future Games. Since 1928, cross country has been contested only as the fifth discipline of the modern pentathlon, and until 2016 it was the only discipline where the Olympic competition was only part of the modern pentathlon. The sport will have a separate medal event at the 2018 Youth Olympic Games in Buenos Aires.
The International Cross Country Championships was held for the first time in 1903. The first international cross country championship for women was held in 1931, and thirteen more times through 1972. Beginning in 1973, the IAAF began hosting the renamed World Cross Country Championships each year.
In addition to the World Cross Country Championships, the IAAF sponsors six annual area-level competitions: the African Cross Country Championships, Asian Cross Country Championships, European Cross Country Championships, NACAC Cross Country Championships, Oceania Cross Country Championships and South American Cross Country Championships. Beyond championships, IAAF world cross country meetings include the Great Edinburgh International Cross Country, Cross Internacional de Itálica, Antrim International Cross Country, Cinque Mulini, Nairobi Cross, Chiba International Cross Country, Fukuoka International Cross Country meet, Eurocross and Almond Blossom Cross Country
To know about the various races held in india visit: indiarunning.com/upcoming-races