Racerunning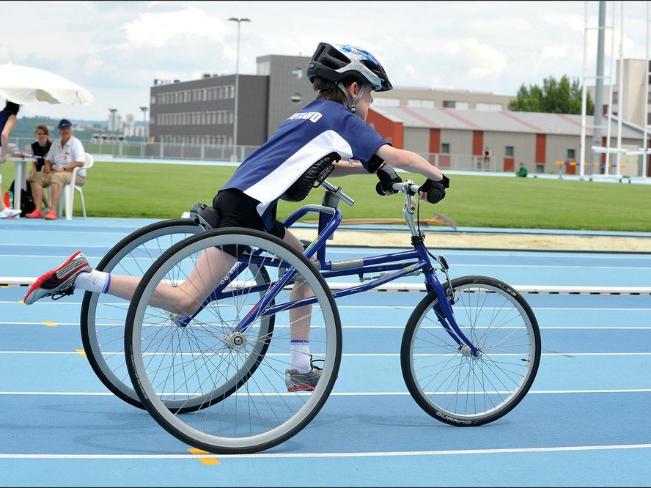 Racerunning is an athletic discipline for disabled athletes or 'racerunners' with impaired balance. Athletes use a running bike, a three-wheeled frame with a saddle, body support and most notably, no pedals. Athletes run over distances similar to other track and road running disciplines; 100, 200, 400, 800 metres as well as 10 kilometres, half and full marathons.
Currently governed by the Cerebral Palsy International Sports and Recreation Association (CPISRA), RaceRunning was first introduced in Denmark in 1991 for athletes with high support needs by Paralympian Connie Hansen and present international racerunning coordinator Mansoor Siddiqi.
A RaceRunner is a custom-built tricycle without pedals on which balance is not a problem.
RaceRunning is an obvious sport for people with cerebral palsy, arthritis affected and amputees. RaceRunning gives disabled people who otherwise can only get around in an electric wheelchair, a manual wheelchair or in a walker the ability to move by themselves. With a RaceRunner even people with heavy disabilities may experience the feeling of running.
There are 3 CPISRA International classification classes; RR1, RR2 & RR3. In addition RR4 – is a classification available for those with mobility challenges who do not classify within RR1, RR2 or RR3. RR4 is not a CPISRA international classification, however, national bodies may include RR4 events in their domestic and open competitions.
Racerunning is not as popular as some of the other sports for disabled athletes and is currently not a part of the Paralympics. However there are several regional level competitions conducted for racerunning.
The RaceRunning events for athletes with severe co-ordination impairments will be included in World Para Athletics from 2018. A selective RaceRunning programme will be included at the Berlin 2018 World Para Athletics European Championships. After Berlin, further activities will be adopted through to 2021 for the development of RaceRunning. This will include a programme of (regional) RaceRunning workshops and events. World Para Athletics will work in consultation with NPCs and National Athletics Associations, in continuous partnership with CPISRA.
Beyond 2021 the progression of these events and classes will be dependent on similar scrutiny to that of other events and classes currently recognised by World Para Athletics