Hammer Throw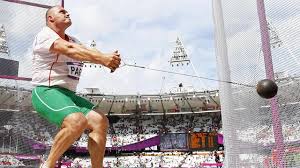 The hammer throw is one of the four throwing events in regular track and field competitions, along with the discus throw, shot put and javelin. The "hammer" used in this sport is not like any of the tools also called by that name. It consists of a metal ball attached by a steel wire to a grip. The size of the ball varies between men's and women's competitions.
How it Works: Athletes throw a metal ball (16lb/7.26kg for men, 4kg/8.8lb for women) for distance that's attached to a grip by a steel wire no longer than 1.22m while remaining inside a seven-foot (2.135m) diameter circle. In order for the throw to be measured, the ball must land inside a marked 35-degree sector and the athlete must not leave the circle before it has landed, and then only from the rear half of the circle. The thrower usually makes three or four spins before releasing the ball. Athletes will commonly throw four or six times per competition. In the event of a tie, the winner will be the athlete with the next-best effort.
While the men's hammer throw has been part of the Olympics since 1900, the International Association of Athletics Federations did not start ratifying women's marks until 1995. Women's hammer throw was first included in the Olympics at the 2000 summer games in Sydney, Australia, after having been included in the World Championships a year earlier.