Marathon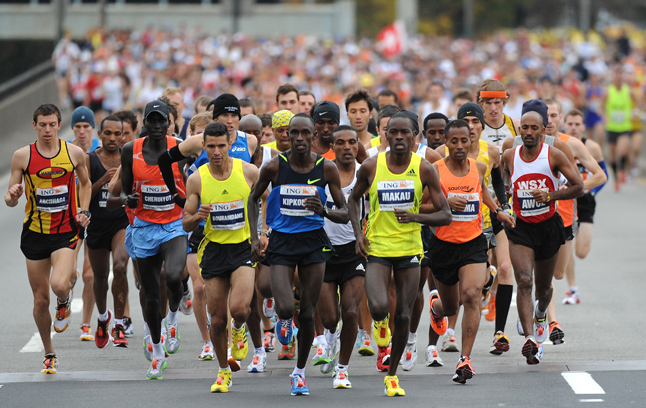 The marathon is a long-distance running race with an official distance of 42.195 kilometres (26.219 miles, or 26 miles 385 yards), usually run as a road race. The event was instituted in commemoration of the fabled run of the Greek soldier Pheidippides, a messenger from the Battle of Marathon to Athens, who reported the victory. The marathon was one of the original modern Olympic events in 1896, though the distance did not become standardized until 1921. More than 800 marathons are held throughout the world each year, with the vast majority of competitors being recreational athletes as larger marathons can have tens of thousands of participants.
Marathon races: Annually, more than 800 marathons are organized worldwide. Some of these belong to the Association of International Marathons and Distance Races (AIMS) which has grown since its foundation in 1982 to embrace over 300 member events in 83 countries and territories. The marathons of Berlin, Boston, Chicago, London, New York City and Tokyo form the biennial World Marathon Majors series, awarding $500,000 annually to the best overall male and female performers in the series. In 2006, the editors of Runner's World selected a "World's Top 10 Marathons", in which the Amsterdam, Honolulu, Paris, Rotterdam, and Stockholm marathons were featured along with the five original World Marathon Majors events (excluding Tokyo). Other notable large marathons include United States Marine Corps Marathon, Los Angeles, and Rome
The marathon at the Summer Olympics is the only road running event held at the multi-sport event. The men's marathon has been present on the Olympic athletics programme since 1896. Nearly ninety years later, the women's event was added to the programme at the 1984 Olympics.
Marathon events have been held at the Summer Paralympic Games, for both men and women, since the 1984 Summer Paralympics in Stoke Mandeville and New York City. They are held as part of the Paralympic athletics programme.
The list of the marathon held in India can be found in: Indian Marathon Calender
The AFI (Athletics Federation of India) approved marathon/races are: Approved races and marathons
Training: The long run is an important element in marathon training. Recreational runners commonly try to reach a maximum of about 32 km (20 mi) in their longest weekly run and a total of about 64 km (40 mi) a week when training for the marathon, but wide variability exists in practice and in recommendations. More experienced marathoners may run a longer distance during the week. Greater weekly training mileages can offer greater results in terms of distance and endurance, but also carry a greater risk of training injury. Most male elite marathon runners will have weekly mileages of over 160 km (100 mi). It is recommended that those new to running should get a checkup from their doctor, as there are certain warning signs and risk factors that should be evaluated before undertaking any new workout program, especially marathon training. Training programs can be found at the websites of Runner's World, Hal Higdon, Jeff Galloway, and the Boston Athletic Association, and in numerous other published sources, including the websites of specific marathons.
Glycogen and "hitting the wall": Carbohydrates that a person eats are converted by the liver and muscles into glycogen for storage. Glycogen burns rapidly to provide quick energy. Runners can store about 8 MJ or 2,000 kcal worth of glycogen in their bodies, enough for about 30 km/18–20 miles of running. Many runners report that running becomes noticeably more difficult at that point. When glycogen runs low, the body must then obtain energy by burning stored fat, which does not burn as readily. When this happens, the runner will experience dramatic fatigue and is said to "hit the wall". The aim of training for the marathon, according to many coaches, is to maximize the limited glycogen available so that the fatigue of the "wall" is not as dramatic. This is accomplished in part by utilizing a higher percentage of energy from burned fat even during the early phase of the race, thus conserving glycogen. Carbohydrate-based "energy gels" are used by runners to avoid or reduce the effect of "hitting the wall", as they provide easy to digest energy during the run. Alternatives to gels include various forms of concentrated sugars, and foods high in simple carbohydrates that can be digested easily. Many runners experiment with consuming energy supplements during training runs to determine what works best for them. Consumption of food while running sometimes makes the runner sick. Runners are advised not to ingest a new food or medicine just prior to or during a race.
After a marathon: Marathon participation may result in various medical, musculoskeletal, and dermatological complaints. Delayed onset muscle soreness (DOMS) is a common condition affecting runners during the first week following a marathon. Various types of mild exercise or massage have been recommended to alleviate pain secondary to DOMS. Dermatological issues frequently include "jogger's nipple", "jogger's toe", and blisters.
Health risks: Marathon running has various health risks. Training and the races themselves put runners under stress. While rare, even death is a possibility during a race. Common health risks include injury such as blisters, tendonitis, fatigue, knee or ankle sprain, dehydration (electrolyte imbalance), and other conditions.