Relay Race (Athletics)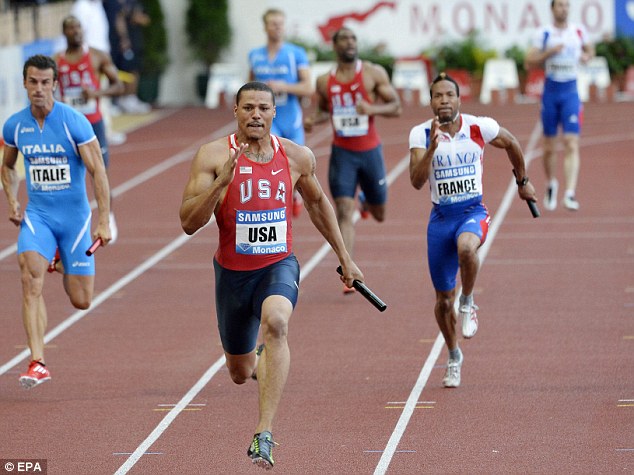 A relay race is a racing competition where members of a team take turns completing parts of racecourse or performing a certain action. Relay races take the form of professional races and amateur games. Relay races are common in running, orienteering, swimming, cross-country skiing, biathlon, or ice skating (usually with a baton in the fist). Relay running is a part of the track and field events, and is contested during the Olympic Games and the World Championships. In the Olympic Games, there are several types of relay races that are part of track and field.
In athletics, the two standard relays are the 4×100 metres relay and the 4×400 metres relay. 4×200, 4×800, and 4×1600 relays exist as well, but they are rarer. Mixed-gendered 4 × 400 metres relays were introduced at the 2017 IAAF World Relays.
The largest relay event in the world is the Norwegian Holmenkollstafetten. Another large relay event is the Penn Relays, which attracts over 15,000 competitors annually on the high-school, collegiate and professional levels, and over its three days attracts upwards of 100,000 spectators. It is credited with popularizing relay racing in the sport of track & field.
Equipment: The relay baton is a smooth, hollow, one-piece tube made of wood, metal or any other rigid material. It measures between 28-30 centimeters long, and between 12-13 centimeters in circumference. The baton must weigh at least 50 grams.
4×100 metres relay: Four sprinters, in the same designated lane, each run 100m to complete a lap of the track. During their individual legs they have to carry a baton that must be passed to the next runner within a 20m changeover box that's situated 10m before and 10m after the start of each subsequent leg. The outgoing runner usually runs at full speed with an arm stretched out behind in order to receive the baton. Failure to adhere to the baton-changing rules results in a team's disqualification. Slick handovers can compensate for a lack of basic speed – but dropping the baton is a regular occurrence. The first team across the finish line, baton in hand, wins.
The first Olympic relay took place in 1908 – but was split into two legs of 200m, followed by one of 400m and another of 800m. The first Olympic 4x100m relay for men was held in 1912; the first for women was held in 1928.
4×400 metres relay: Four athletes each complete one 400m lap. The first lap is run in designated lanes, as is the second – until the beginning of the back straight. Thereafter runners usually battle to hold the inside line. Each runner must carry a baton during his or her leg and hand it to the subsequent runner within the changeover zone, which is sited 10m either side of what will be finish line.
The first Olympic relay took place in 1908 – but was split into two legs of 200m, followed by one of 400m and another of 800m. The first Olympic 4x400m relay for men took place in 1912; the first for women was in 1972.
Long-distance relays: Long-distance relays have become increasingly popular with runners of all skill-levels. These relays typically have 5 to 36 legs, each usually between 5 and 10 km (3.1 and 6.2 miles) long, though sometimes as long as 16 kilometres (9.9 mi).
The IAAF World Road Relay Championships was held from 1986 to 1998, with six-member teams covering the classic 42.195 km marathon distance. The world's longest relay race is Japan's Prince Takamatsu Cup Nishinippon Round-Kyūshū Ekiden, which begins in Nagasaki and continues for 1,064 kilometres (661 mi).
Cross-country relays: For the 2017 IAAF World Cross Country Championships, a mixed relay race was added (4 × 2 km).
Biathlon: In biathlon, the relay race features a mass start, with teams consist of four biathletes. A biathlon relay race was first held at the Biathlon World Championships 2005 in Khanty-Mansiysk, and it was added to the 2014 Winter Olympics.
Medley relay: Medley relay events are also occasionally held in track meets, usually consisting of teams of four runners running progressively longer distances. The distance medley relay consists of four legs run at distances of 1200, 400, 800, and 1,600 metres, in that order.
Relay Rules:
The baton can only be passed within the exchange zone, which is 20 meters long usually marked by triangles on the track. Passers must remain in their lanes after the pass to avoid blocking other runners.
The baton must be carried by hand. If it's dropped the runner can leave the lane to retrieve the baton as long as the recovery doesn't lessen his/her total running distance. Runners may not wear gloves or place substances on their hands in order to obtain a better grip of the baton.
Any athlete entered in the Olympics may compete on a country's relay team. However, once a relay team begins competition, only two additional athletes may be used as substitutes in later heats or the final.
For practical purposes, therefore, a relay team includes a maximum of six runners – the four who run in the first heat and a maximum of two substitutes.
A team may be disqualified from a relay for:
Losing the baton (dropping the baton)
Making an improper baton pass, especially when not passing in the exchange zone
False starting (usually once but sometimes twice)
Improperly overtaking another competitor
Preventing another competitor from passing
Wilfully impeding, improperly crossing the course, or in any other way interfering with another competitor